NOW YOU CAN EXPERIENCE THE BEST OF BOTH WORLDS
With so many of us looking for more from our outdoor living, the LifeRoom Louvered Roof System offers the perfect answer to the question of compromise. Do you need a covered space to prolong the season or would you prefer an open-air structure that allows you to enjoy the sun's rays and a natural breeze.
Our outdoor space is more valuable than ever, the LifeRoom Louvered Roof System gives you flexibility and options. On a nice day, open the roof up and enjoy dappled shade as you would a pergola, a little rain on the cards? No need to cancel your Sunday - Funday, just close the roof and you have a waterproof patio cover.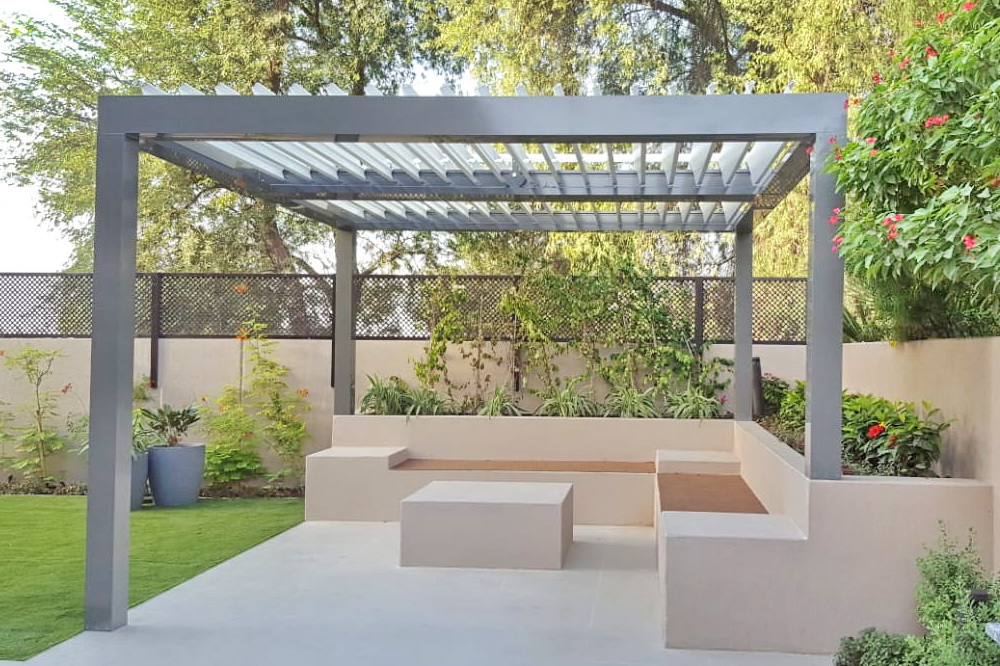 A TECHNOLOGICALLY ADVANCED PROVEN SYSTEM
In addition to the reliable opening and closing feature, our system provides a range of benefits which traditional roofing methods simply cannot match. The size, shape and raw material of the louvers and structure, in combination with an internal gutter system, seamless fixing points, concealed brackets and an attractive, UV resistant powder coat are the basis of its trusted standing.

At the touch of a button or flick of a switch, each louver blade pivots to any desired position within a 140º rotation, transforming a solid, waterproof covering into a light-filtering trellis. This enables the user to enjoy sunlight, shade or a breeze when the weather is fine or hot and when the weather is wet, waterproof protection from the rain. Weather control is now at your finger tips.
For over 15 years, this system has been put to the test in some of the harshest environments, including rainfall in Hawaii, heat in Australia and even the sandstorms of the United Arab Emirates. Peak level performance means that this system has been trusted by big commercial names for restaurant and hotel projects.

Our soft-close louver system with quiet motor technology has the added benefit of not only enhancing the calm as you operate your LifeRoom Louvered Roof, but ensuring that the blade joints block light from the outside.
STYLE THAT MATCHES YOUR STYLE
With twenty different color choices available the LifeRoom Louvered Roof System is sure to meet your needs and your own personal aesthetic. Imagine a scenario where we don't have a color combination that matches your home, or maybe you want to exhibit a little more flair, well at Four Seasons, we truly have you covered. All parts can come in custom colors, it may take a little longer, but anything worth having is worth waiting for!
MAKE YOUR HOME YOUR DREAM SPOT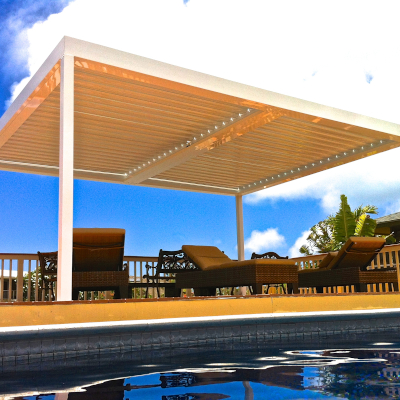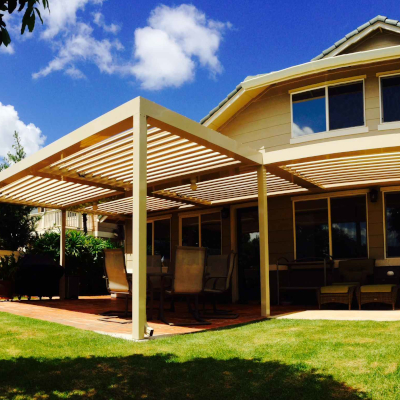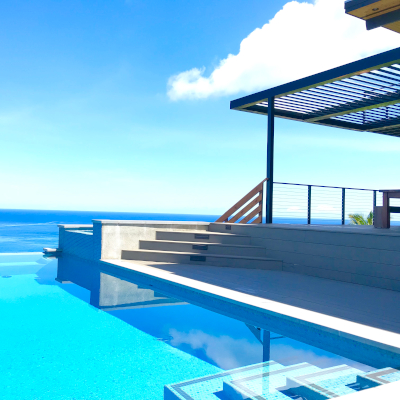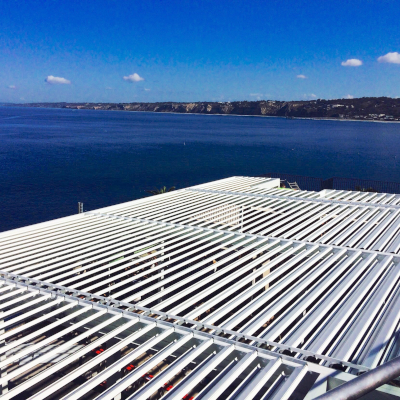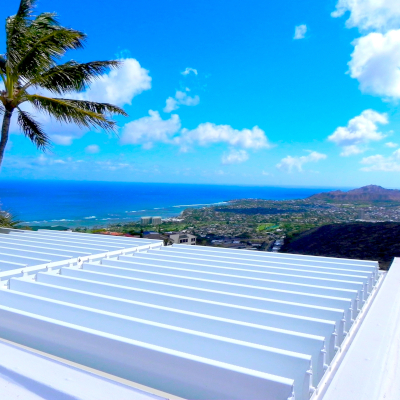 So Many Reasons To Choose The LifeRoom Louvered System
No rust, rot and deterioration due to all structural components manufactured out of aluminum, combined with a durable powder coat tested by 1500 hours of salt spray.
All fasteners are manufactured out of stainless steel to ensure no component on the structure rusts.
Industry-leading warranty on all parts and labor.
Powered by battery and solar panel means no hard wiring into your house.
No time consuming or expensive maintenance.
Protects window coverings, carpets and furniture from weather damage.
Reduces interior cooling costs by shading exterior walls from solar heat.
Allows rising hot air and high winds to pass through (unlike regular solid roofs).
Suitable for all types of outdoor areas: attached to existing structures, built free-standing or incorporated into current solid roofs.
Applications include: patios, lanais, decks, spas, swimming pools, outdoor kitchens, BBQ areas, courtyards, entryways, carports and anywhere else convenient.
Four Seasons is offering site specific engineering with all purchases of the LifeRoom Louvered Roof System where necessary.
By clicking here, I consent to Four Seasons Sunrooms or one of its dealers/agents contacting me via call or text at the phone number (including wireless number) or email address I provide to discuss my needs, even if my number is currently listed on any state, federal or internal Do Not Call List. I consent to receive autodialed and/or pre-recorded calls and messages. I understand I do not need to submit this form to get information, but instead can call 631-563-4000. I also understand that Four Seasons Sunrooms collects certain categories of personal information and uses this information in various ways, including order fulfillment and providing product information and service to you. For more information, I may visit Four Seasons Sunrooms Privacy Policy. I may revoke this consent at any time by contacting Four Seasons Sunrooms at 631-563-4000. I understand that all calls are recorded for quality and safety purposes
Flexible Hours
Dedicated to Client Satisfaction
Attention To Detail
24/7 Emergency Services
100% Customer Satisfaction Guarantee
Highest Quality Performance & Service